It is starting to feel like every year there is something that is rare taking place in our skies. For this years "rare" event, the United States of America and other parts of the world will get to see a Super Blue Blood Moon on January 31st. The last time this happened was March 31, 1866. A Super Blood Blue moon is said to be 3 moon events rolled into 1:
A Super moon which is were the moon appears to look larger in the sky.
A Blue moon is were a full moon happens twice in the same calendar month.
A Blood moon is were a total lunar eclipse happens and the moon appears reddish in color
According to Accweather only parts of the United States will be able to see this moon as shown here in this map: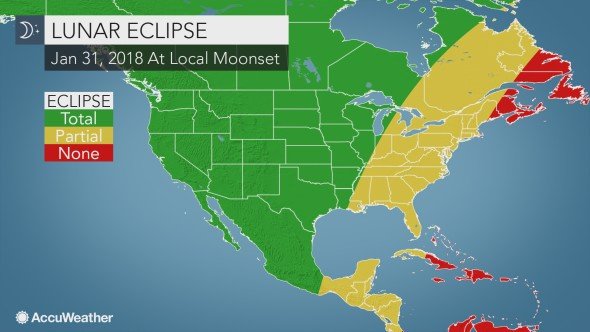 Can someone please explain how only some will get to view this? A lunar eclipses occur when the moon passes into Earth's shadow, right? So if the moon is totally in the Earth's shadow, wouldn't everyone be able to view it?
In 2017 we had the total solar eclipse which was said to be rare because it was starting at the northwest part of the United States and goes to the southeast part of the United States making it visible to the US…(Yeah thats right.. one more time.. the sun went from the northWEST to the southEAST but we can talk about that another time ^ ^) There will be 69 total solar eclipses in the next 100 years, but only a few will be visible from parts of the US. Let us ask if anyone recalls the 4 blood moons also dubbed the "Lunar Tetrad" that happened in recent years? We tried to look up the dates, but to no avail… instead Google told us that 4 blood moons took place over 2014-2015 and the dates that where given where:
April 15, 2014
October 8, 2014
April 4, 2015
September 27, 2015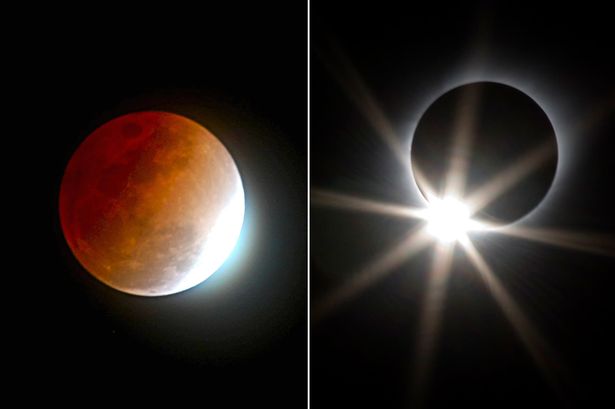 There are so many mysteries about the moon, sun and the stars. Some religions are based upon the moon and its cycles. Others are told to look at the sky for signs from heaven. What are you thoughts and beliefs on the moon? What do you think is going on in our skies? We would love to hear your thoughts, comments and/or concerns below. As always, Thank You for reading this article and if you would like to see more of our work visit our steemit page @truthbeyondlies
Comment Using Facebook
Comment Using Facebook